At Dragonfly Pond Works, we always strive to provide the most appropriate water beautification solutions. Following our assessment, we recommended our low impact, highly robust shoreline restoration through pump dredging service. This method is environmentally friendly and long-lasting, while cost effective. All of these factors were of importance to a growing community.
Shoreline erosion at two of the Country Walk lakes we were contracted to restore. This shoreline will continue to erode if not restored properly.
Our experienced crew secures Geobags along the eroded shoreline. The Geobags are made of highly durable geotextile material. Sediment from the lake bottom is pumped directly into the bag by the dredging machine. The bag allows water to escape while keeping the sediment inside.
The crew works together to ensure the Geobag is being filled in such a way as to effectively correct the eroded shoreline.
First, the bottom bag, the anchor bag, is filled with sediment pumped by the dredging equipment. Next, an additional bag is stacked on top of the filled anchor bag and also filled.
The filled anchor bag is left in place to protect against future erosion. The top bag is split open and the material is graded over the anchor bag to create a natural slope. The crew then secures matting over top to prevent any material from being washed away.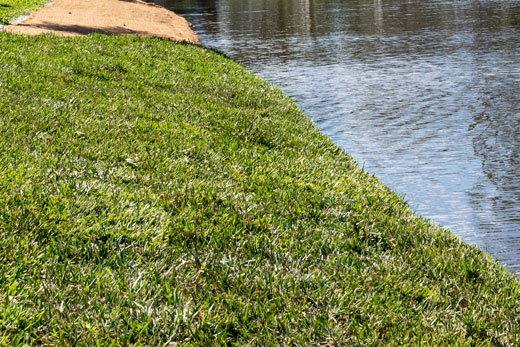 Once the sediment is graded and secured with matting, sod is placed over everything. The bottom anchor bag is no longer visible.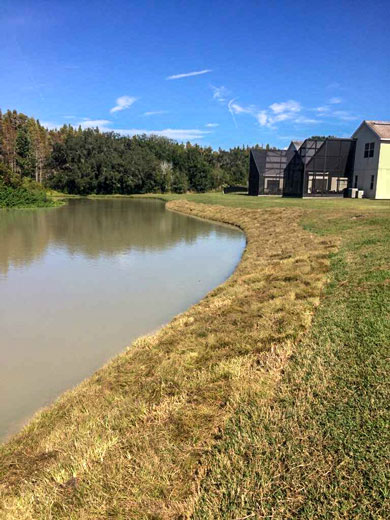 BEFORE / AFTER
The shoreline has been restored to a safe, healthy, and compliant slope. As the sod continues to take root, the grass will become greener and blend in seamlessly with the rest of the area.
BEFORE / AFTER
Country Walk required a low impact, environmentally friendly, long lasting solution to restore several eroded shorelines. As a developing community with homes to sell, an efficient solution was critical. Dragonfly Pond Works' shoreline restoration services provided a beautiful and natural solution, which also saved time and money. Now current and future residents are able to safely enjoy their backyard sanctuaries once again. At Dragonfly Pond Works, we create beautiful spaces.
To learn more about our dredging and shoreline restoration services, please CLICK HERE.