Dragonfly Pond Works offered our low impact, highly successful shoreline restoration services to solve this community's ongoing struggle. DPW's pump dredging solution utilizes Geobags, which are highly durable geotextile bags filled with sediment pumped from the lake floor. This solution beautifully restores the shoreline, while safeguarding against future erosion. This method is low impact due to the lake not needing to be drained and smaller equipment being utilized. Dragonfly's talented crews were able to turn this worrisome liability back into a beautiful sanctuary.
The entire shoreline consisted of cement blocks that had previously been installed as an attempt to prevent further erosion. DPW removed the blocks before moving forward.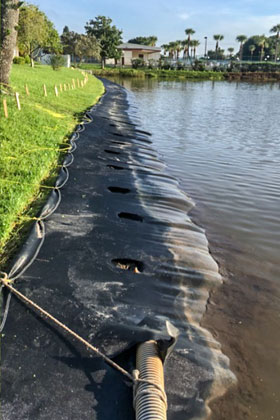 Geobags are secured to the shoreline and sediment is pumped directly into the bags by the dredging equipment. Multiple bags are stacked on top of each other and filled.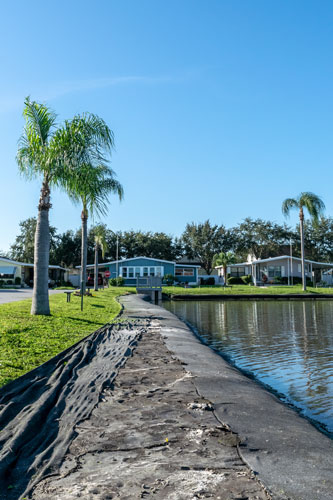 Two filled Geobags are stacked on top of each other. The top bag is split open, while the bottom bag remains in place as extra protection against future erosion. The material from the top bag is graded to a natural and safe slope.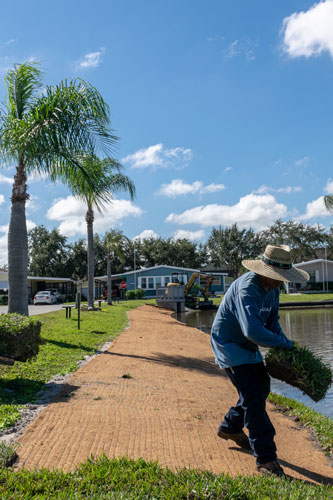 After the material is graded to the desired slope, matting is placed over top to secure the material and prevent washout. Then sod is secured over the matting.
The restored shoreline looks natural and beautiful. Our solution is long-lasting and will safeguard against future erosion.
The Gold Tree Community loves life in the sunshine and enjoying their surroundings. We are happy to have been able to provide them with a low impact, long-term solution that allows them to enjoy their beautiful sanctuary for many years to come. Dragonfly Pond Works, we create beautiful spaces.
For more information on our dredging services, please CLICK HERE.